Bonita Church Finds New Home in Former Albertson's in Estero
Posted:
The Living Waters Community Church in Bonita Springs, according to this Naples Daily News article, has found a new home in a former Estero Albertsons.
The church bought the old grocery store, which has been closed since 2009, for a cool $4.4 million.
In a news release, the church said it's an exciting time.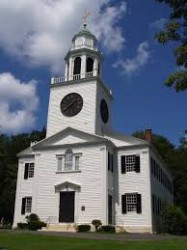 "Over the last few years, Living Waters has grown exponentially and has outgrown the previous building," the statement said. "Living Waters is committed to being a positive and influential church in the Southwest Florida area."
In a statement, the church said the new location would have a "minimalistic and modern feel with industrial elements" and that its new auditorium would have a state-of-the-art video system and lighting equipment. The project also would include a 6,500-square-foot lobby and a Starbucks-style café—because sometimes even God isn't enough to wake you up in the morning.
"What sets Living Waters apart is their VIP experience," the news release said. "The church is committed to embracing every person in the community as a VIP through a welcoming atmosphere and by reaching out to families in the community."
The church's preschool, known as the Living Waters Academy, will stay put for now, but will be part of the new church. It may even make the move first.